Are 'Big Brands' Better?
Big brands definitely have the money to do more marketing and to sponsor the big name players. This all helps in raising their profile and creating the perception that they are better.
It would also mean they have more money to put into research and development and would therefore suggest they do make quality products, but does that mean they are better than some of the 'smaller specialist' brands out there?
Don't get me wrong, I am not suggesting for one second that all brands are equally good. There are a lot of cheap and terrible quality strings on the market, but there are also some really excellent ones.
Brands that specialise in one area of the sport, such as strings, definitely have strings comparable in quality to the big brands.
A couple of years ago, when I set up my stringing room in Doha, I decided I wanted to offer another brand in addition to the expected ones. (Yes I stock Babolat, Luxilon, Head, Yonex and so on.) I wanted to add a brand that offered quality and a good selection of strings.
Over the course of that summer I contacted various 'smaller' brands, (I say smaller as they don't sell rackets, or clothes or shoes, they just specialise in one area). I received samples from a few and to be fair they all had a nice string or two but I found only one that offered a nice range and that was Kirschbaum.
Along with the good range of strings I found my initial dealing with Kirschbaum to be friendly, informative and very obliging. Some of the other brands were too pushy and this was an immediate turn off for me.
Kirschbaum supplied me with a good selection of strings to test and between my own testing and that of some players I asked to test for me, the feedback was very good.
My initial order was for 3 different strings in varying gauges. Touch Multifibre, my favourite multifilament, Pro Line II, my most popular co-poly and an interesting string called Helix.
Since then I have added more and more strings from their range and in various gauges.
Touch MF (Tennis and Squash)
Pro Line II
Helix
Gut Feeling (Tennis and Squash)
Max Power
Pro Line Rough
Pro Line Evolution
Touch Dura
PLX
Black Shark
So while the 'Big Brands' definitely get more attention, it doesn't mean they are always better.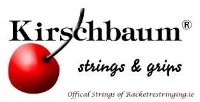 Since its founding in 1987, Kirschbaum strings & grips has developed a stable market position nationally and internationally with steadily growing sales figures. While in the early years the production mainly served to supply well-known racket suppliers, the brand name Kirschbaum strings & grips subsequently established itself as guarantor for high-quality tennis strings, above all monofilament polyester strings (PET). For this purpose, in cooperation with tennis players and institutes, own patents and machines for surface refinement were developed and produced.