Irish Tennis Players – How well do you know your equipment?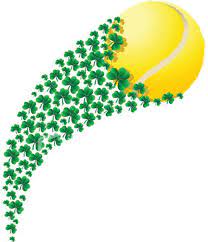 Times have changed and so has the game of tennis. Technology has transformed the game, for better or worse is debatable, new technologies in rackets and strings along with players improving their fitness. All these things have had a big effect on how the game is played now.
When I started playing it was with a wooden racket and nylon (synthetic gut) strings. Natural gut was also available but was expensive and not really suited to the Irish weather.
Until I became a senior in 1991, the string choices were still nylon and gut. Later in 1991 Luxilon introduced the first polyester string, it was called Big Banger. In 1994 they introduced their famous 'Alu Power' string; however, it wasn't until Gustavo Kuerten started making waves in 1997 that polyester really started to get attention.
Up until this time, and particularly in Irish tennis, nylon was the string of choice. At the end of 1991 I started working in a sports shop and shortly after I learned to string. Although, after attending a stringing workshop some years later I realized the quality of our stringing left a lot to be desired. Following this course, I delved deeper into the world of rackets and strings and found there was so much more to this than just having a machine and setting the tension. Subsequently I did courses and exams with the various stringing governing bodies and continue to do so today.
The best advice I can give any player is that everyone is different. There is no such thing as the best racket or the best string, it is finding the one that suits you best is what's important. Where you get your advice is equally important. Do a bit of research to find your reliable source and when you find them, only listen to them. Don't be afraid to ask questions, knowledge is key.
I have gathered information over the last couple of years, at interpro events, from coaches and from former and current Irish professionals and I would like to thank them for sharing in an effort to help our future players.
Former professionals, Gina Niland and Karen Nugent played with nylon strings at a tension range of mid to high 50's. Owen Casey played with Natural gut in a range of 48-54lbs, depending on surface or climate, and the gut was pre-stretched.
More recent players, since the arrival of polyester, Sam Barry played with Luxilon Alu Power at 24.5k (54lbs), Conor Niland used Babolat RPM Blast at 58-59lbs and doubles specialist Dave O Hare played with Luxilon 4G in the mains and Natural gut in the crosses at 47/49lbs, the gut was also pre-stretched.
All of these players would vary their tensions depending on the surface and climate.
Conor, Sam and Dave also told me they had their rackets customized to their specific requirements and all done by professional technicians.
Players of all standards would benefit from paying more attention to their equipment. The pros are the best example of this. At Wimbledon in 2019 the stringing team strung 4902 rackets for 713 players and in 2020 they passed the 5000 mark. Earlier this year at the ATP and WTA events in Dubai the team strung 1170. The majority of tournaments worldwide are seeing an increase in numbers as players become more aware of the importance of having their equipment at its best.
At a recent U-18 interprovincial I gathered information from 36 of the 40 players, and the results were worrying. Some of these players represent Ireland, others were heading off on scholarships soon after the event.
Of the 36 players, 33 didn't know what gauge/thickness their string was. 11 didn't know what string they were using and 8 didn't know their tension.
The gauge of the string affects the power, the control and the spin you have on each shot. The tension affects the power or control. For any player these are good to know, for performance players this essential information.
Understanding how strings perform can add hugely to your own performance. There is no 'one string suits all' and every string doesn't suit every racket.
If anyone wants to know more about their current racket/string setup or if you would just like more information, feel free to get in touch (rob@racketrestringing.ie), I will be delighted to help out.
In general, most of the players I spoke to agreed, information is improving in Irish tennis but could still improve further.
Finally, I would like to thank Gina, Karen, Owen, Conor, Sam and Dave for sharing their information. It was a pleasure watching them throughout their careers and it is great to be able to avail of their knowledge and experience now.