Kirschbaum Touch Multifibre - Gauge 130, 135.
Colour Natural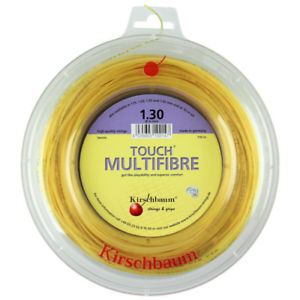 As with all Kirschbaum strings, it is pre-stretched in production, which helps with tension retention.
It is described as having a gut like performance. Like all multifilament's it offers plenty in the way of power and is arm friendly, I do however find it is a little firmer than Kirschbaum's other multifilament, Gut Feeling.

Wilson Sensation Comfort - Gauge 130 - Colour Natural and Green.
One of the oldest multifilament's on the market and still one of the most popular. An arm friendly string for those suffering from or prone to tennis elbow.
This is a powerful string with a high level of comfort due to its elasticity. It also has good tension retention.